My Journey to #278 in 2018
When you first launch a business, you have no idea whats going happen.

I always like to remind new Entrepreneurs that everyone starts at zero.
Zero sales. Zero website visitors. Zero social media followers. The zero list goes on!
After being part of plenty of business that didn't make it, I knew this time was going to be different. I had "failed forward" enough and was dead serious about making this venture something special.
Getting ranked in the INC 5000 is cool. Ranking in the top 500 is epic! The level of recognition and respect that gets thrown in with this makes the years of blood, sweat, and tears of growing your business totally worth it.
No, you don't grow your business so others think you are awesome. Although, it ads a certain level of amazing to get the recognition.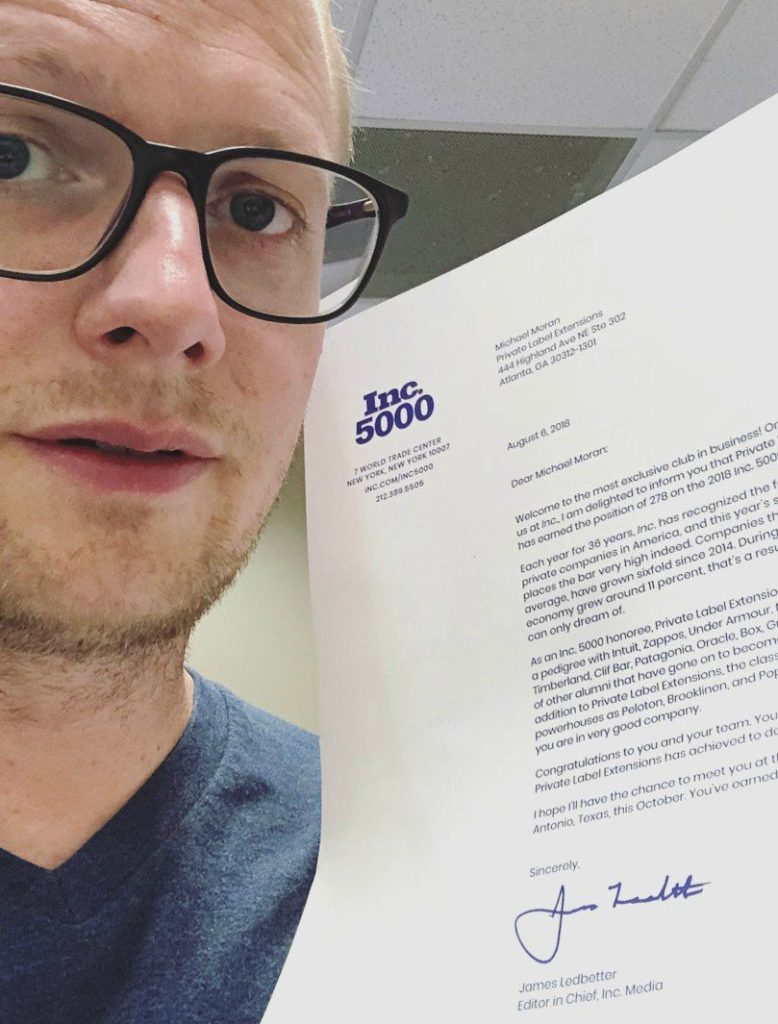 How to Rank in the INC 5000
Before I go more into the journey of getting ranked in the INC 5000, let me explain the formula INC Magazine uses to calculate your business' growth and how you can get in the elite list of fast-growing companies.

To qualify you must:

– Be a privately-owned business based in the USA.
– Have started earning revenue by X Date 3-Years prior.
– Had revenue no less than $100k in that year (3-years prior)
– Had revenue no less than $2 mil in previous year applying.
– Revenue of the first year calculated exceeds that of the third year.

To calculate your growth percentage you:

Take your current year revenue, subtract the first year, then divide that number by your first year.

This example might make it easier…

For the Private Label Extensions calculation, we took the revenue in 2014 and then compared it to the revenue in 2017.

It looked something like this:

2014 – $224,515
2017 – $4,215,559

You take $4,215,559 – $224,515 = $3,991,044

Next, divide $224,515 into $3,991,044 = 17.7762

Move the decimal over two spaces for the percentage – 1,777%

To submit your information to INC Magazine you will need to submit a Revenue Verification Form.
And if you are reading this and ready to get listed, you can do so here – INC Application.

About a week after submitting the "Revenue Verification Form" I received an additional email from the INC team asking for further documents to verify our numbers. I forwarded the email over to my CPA who handles the rest.

I thought the second round of verification had to be a good sign. Oh, I was right about that!

A few months after submitting the INC 5000 application I received an email in July to let me know we made the list.
Well, I didn't need to be a mathematician to figure out that I was going to be in the top 5000.

During this process I did my own calculation of our growth and compared it to the list from 2017. Ranking in the top 1,000 was sure to come, but you never know how other businesses did during the booming economy so nothing was for sure.

So, I continue to wait for the next update from the INC team.
The INC 5000 Package Arrived
The moment was finally here.

In early August the package from INC Magazine that held our fate inside had arrived.

I got the team so we could open it together in the Private Label Extensions showroom together.
This was one of the best moments in my Entrepreneur career of over 12 years.

Opening the box and seeing that we ranked #278 was just incredible.

To be on the list with all the well-known brands in the USA made me really feel like I made it. The team really felt special as they know it was a team effort to get to this point in the business.

Soon after receiving the package I also received and email with further gratitude from INC.
INC 5000 GALA
What better way to celebrate than a black tie event?

We flew out to San Antonio to celebrate with tons of other business owners that made the list.

The event was really well done.

One of the big attractions when first walking into the event is this massive Inc 5000 sign.

We couldn't miss the opportunity to one, or twenty, photos in front of this iconic symbol.
After having a glass of wine outside of the conference space everyone was escorted in and instructed to grab a seat.

The entertainment was really great!
We were all served a multi-course meal.

The food was decent and the staff at the hotel was really nice.

It's was funny to get certain reactions when talking to some of the other Entrepreneurs we met at the conference.

People would read our tag that says "Private Label Extensions" and not really be too excited to ask about the business.

I would briefly explain that we are a Beauty Technology and Product company that has a focus in the hair industry. It wasn't until I mentioned our rank of #278 that eyes would widen!

After the dinner the full bars opened up and we all hit the dancefloor.
The party kept going for a few hours and everyone was having a blast.

Buying tickets to the event, flights, hotels, meals, car rental, and other miscellaneous expenses really added up.

It was totally worth it for this once in a lifetime celebration!
The Investors Started Reaching Out
Before getting ranked in the INC 500 I feel like we were flying under the radar a bit.

As soon as the list was published I received plenty of invites to talk to private equity and VC firms. When initially growing the business this is something I thought I always wanted. Getting an investor and having a boatload in the bank.

Then I realized, it wasn't.

Part of our success story is that my business partner and I only initially invested about $14,000 each to get this business to where it is today.

Many of the others that ranked on the Inc list ahead of Private Label Extensions, and behind us, had received funding.

It's hard to explain what it takes to get to this point but I can sure tell you it's great being here.